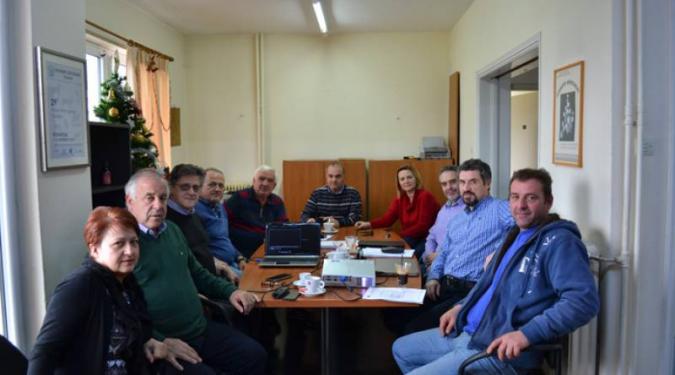 GreenWaterDrone in press
A pioneering PROGRAM for the fight against waste in irrigation projects as well as for the reduction of water salinization with good agricultural practice, was presented by agricultural professors with a group of technocrats in the Directorate of rural economy of TRIFYLIA.
After the meeting, the assistant professor at the Department of Computer Engineering at the TEI of Peloponnese Mr. Panagiotis Philippopoulos stressed that the new research project which was evaluated in the context of innovative actions in which the TEI of Peloponnese participates with the Agricultural University of Athens, with Mr. Stavros Alexandris as the project's Scientific Director together with 3 companies that demonstrate themselves in technology services and also 4 producers of TRIFYLIA as representatives of the region as TRIFYLIA is the second largest horticultural center in Greece after Crete.
The research project aims to develop a system for the dynamic planning of irrigation and water saving which is a very useful issue, as its usefulness is intensified due to the pumping of water resources due to the reckless use of boreholes and the salinization of water. At the producer level, the appropriate tools will be available to save resources as the producer pays 7.5 euros per hour of pumping for 360 cubic meters of water but also at the regional level that wants to build a strategic water resources policy that will meet the growing needs that arise.
Trifylia is at the forefront of innovation
Associate professor of the Agricultural University Stavros Alexandris, in the field of water resources, explained that the PROGRAM will help save water that is wasted during irrigation. He highlighted that the results will be beneficial in the rational management of resources while in TRIFYLIA systems of small meteorological stations will be installed, that will take all climate observations in order for the data to be a tool for improving large-scale irrigation with the help of flying drones.
The utilization of the program was praised by the director of the service Antonis PARASKEVOPOULOS, saying that we have been utilizing the new technologies for a long time in order to support the producers for improving and increasing the products produced in our region.
The producers BABIS Papadopoulos and Costas MALAMOS were impressed by the project as the new technologies are used to the fullest.
Patris news (article in greek)