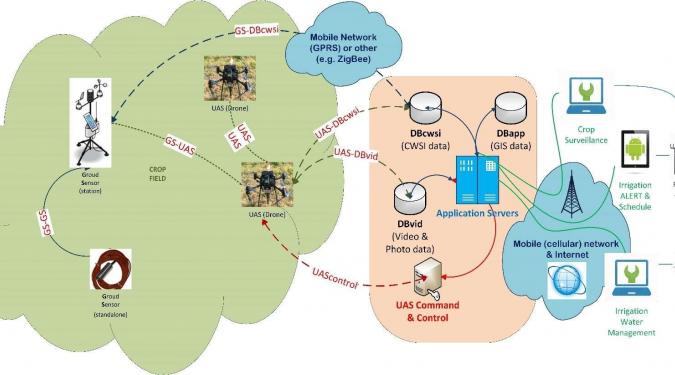 The targeted applications for the dynamic crop irrigation control and aerial surveillance are based on a set of DB systems, where the data collected by aerial and terrestrial logging systems, specialized servers and data visualization & presentation technologies, are deposited, combined through appropriate software ,in order to deliver all the functionality required for the system and end users. Data storage systems include relational and geographical DBs. Speciallized servers include geospatial data (geospatial data servers) and media (media servers). In addition to manage appropriately each different type of data, the above servers offer the ability to make content available in a way that can be consumed by applications and users (eg interactive digital maps, video streams, etc.). The existence of significant volumes of field measurement data and complex simulation models, as well as the ability to extend the system to cover larger areas, creates the need for scalable processing infrastructure, especially given the number of users, in case of a massive use of an application such as Irrigation Alerting & Scheduling. The cornerstone of the system is the geographic information system (GIS), which holds the data needed to characterize and border crops, flight and measurement fields, analysis results and so on. In turn, this system is based on geospatial data visualization services VIRTUAL GLOBE or ONLINE MAPS. On the geographical background, the content of the measurements, the drones' flights, but also the results of model development for CWSI calculation, irrigation planning and system scaling can be visualized. The individual applications and interfaces will have the following functional features:
extracting data from drones (real-time), translating them and inserting them into the appropriate DB system with appropriate metadata for their detection and use.
transfer flight plans from / to the flight control center (in all relevant operating modes of the drones)
performing simulation models to generate new data (e.g., irrigation behavior optimization models)
extracting and visualization of historical and current measurement and simulation data
management and characterization of geographically localized entities (crops, areas, etc.)
delimitation and application of jurisdiction rules for data accessible to users of applications. Classification of user and data types (levels of confidentiality and security)
direct communication (alerting) with users and vehicles (non-human alerting receiver)
control of (existing) irrigation system with partial (focused) function
display of on-demand multimedia content to system users (via web interface) by adapting it to the capabilities of terminal devices (desktop, smartphone).