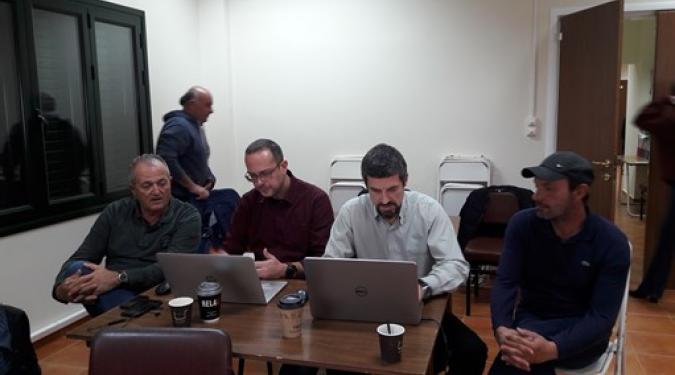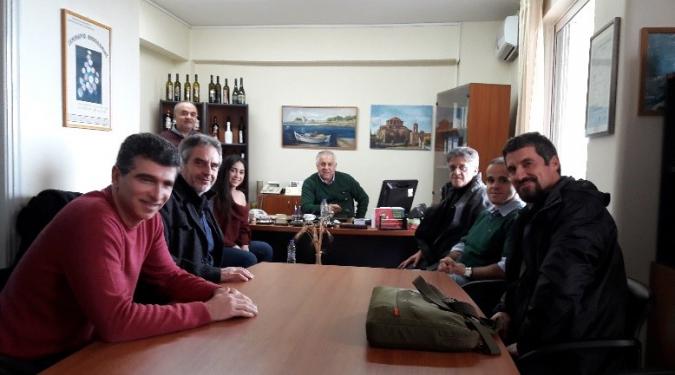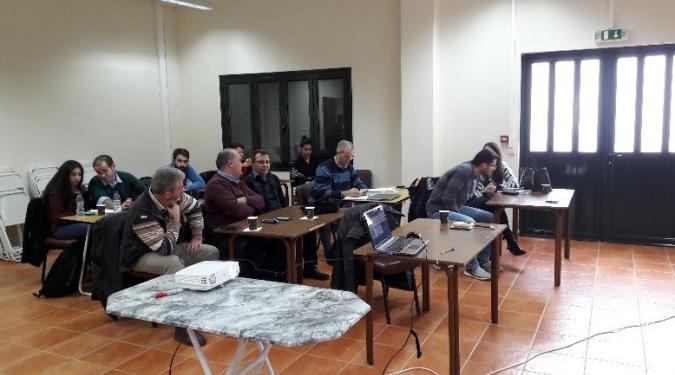 Press release
Workshop for Information & Collection of Requirements from Producers & Agronomists for the GreenWaterDrone Research Project
Today, an information and collection meeting of producers and agronomists in the province of Trifylia took place at the "DIMITRA" Center of ELGO at Kiparissia about the services and technologies that the GreenWaterDrone project www.greenwaterdrone.eu, will pilot in 2019-2020 in the region, which is funded by the NSRF / EPANEK through the "Research - Innovation - Creation" action on the saving of irrigation water.
About 80-85% of all water resources in Greece are spent on irrigation, and a large part (40-60%) of these waters is lost to irrigation networks but also because of over-planning and lack of planning. The gradual reduction of available water resources from over-drilling through drilling and increasing salubrization, makes saving of good quality irrigation water, a critical parameter for the sustainability of the agricultural sector, especially for crops with high water requirements, such as vegetables grown in Triphylia. Many different technologies are proposed to address the problem. The innovation introduced by GreenWaterDrone concerns the way of measuring and implementing the Water Stress Index (CWSI):
For the real-time calculation of irrigation needs (dynamic programming)
at a lower cost than existing terrestrial systems (infrared sensors),
greater accuracy and capabilities than existing satellite telemetry systems,
minimizing crop intervention using drones.
The project's team designs and develops services that include user alerting via PC or smartphone on the need for irrigation (which can be applied with appropriate automation to an existing irrigation system), dynamic surveillance, (real-time imaging / video in case of natural or man-made disasters, regular drone flights for photogrammetry and thermographic plotting of crops) and scaling of irrigation programming, displaying the results (prerequisites) at the Prefecture / Region level as a study tool and water policy design.
The workshop was opened by the Director of Rural Economy Trifylia, Mr. Antonis Paraskevopoulos, with the collaboration and substantial assistance of whom the project was prepared, and its implementation started.
Afterwards the partners and applications were presented by Project Coordinator Mr. George Kakaleris, CTO of CITE. Then the method, innovation and equipment were presented by the Associate Professor of the Agricultural University of Athens, Dr. Alexandros Stavros, Scientific Project Manager and Pilot Test Officer.
Some clarifications to the audience's questions were provided and then a techno-economic summary of the project's services was presented by the Associate Professor TEI of the Peloponnese, Dr. Ing. Filipopoulos Panos, designer of the system.
The workshop was completed with a set of structured interviews by the Technological Educational Institute with the present producers and agronomists to record the views, expectations and requirements (technical and financial) of the potential end-users of the system services.
Below is a full list of the project contributors who attended:
Mr. Kakaletris Georgios, Chief Technical Officer, CITE S.A.
Prof. Alexandris Stavros, General Secretary Dept. of Exploitation of Natural Resources & Agricultural Engineering
Dr. Charalampopoulos Ioannis, GPA Dept. of Plant Production Science
Dr. Psomiadis Emmanouil, GPA Dept. of Exploitation of Natural Resources & Agricultural Engineering
Associate Professor Philipopoulos Panos, TEI Pell. Engineering Information Technology Dept.
EPEP Koutrakis Konstantinos, TEI Pell. Engineering Information Technology Dept.
Mr. Dimos Spyridon, Chief Executive Officer, ITCS Informatics, Education & Consulting. Services Ltd
Press Release