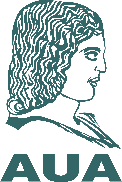 visit AUA website
The Division and Laboratory of Agricultural Hydraulics belongs to the Department of Natural Resources and Agricultural Engineering of the Agricultural University of Athens. It is one of the oldest laboratories of the Agricultural University of Athens since it was founded together with the Athens Higher Agricultural School (1920). The Agricultural Hydraulics Laboratory has been continuously offering since its inception and has years of experience in the field of education and research through international collaborations and research programs. 
As agriculture holds the first place in water consumption in Greece with about 85% of the total annual average consumption, the important role of the Laboratory, which focuses on the utilization and use of water resources and especially the quality of the water. 
It deals with Educational and Research with Applied Hydraulics, Ground Physics, Hydrology, Irrigation and Drainage, Irrigation and Drainage Systems, Land Reclamation Projects, Ground Hydraulics, Extracorporeal and Irrigation Plant Needs, Water Quality, Water Resources Management, Environmental Hydraulics, Irrigation with Processed Waste, 
To this end, the Department and the Laboratory provide their graduates with the necessary knowledge and techniques to address the problems associated with the utilization and design of water resources in Georgia while protecting the environment. It prepares students to solve complex problems related to the study, exploitation, development and protection (quantity and quality) of surface and groundwater and in the design, modernization and management of land reclamation projects such as water collection projects, transport projects, collectively irrigation networks, modern irrigation systems, and protection projects (drainage networks, flood protection works). The Laboratory's activity towards the irrigation water saving through irrigation planning methodologies and precise assessment of the needs of the crops in water 
The international research work of the field and laboratory is particularly intense and is among the first ones of the Agricultural University of Athens. The members of the Laboratory have published a large number of scientific articles in reputable international journals and have participated in a significant number of European and Greek research programs. The C. Hydraulics Laboratory has 7 faculty members and 5 EDIP members.
The Agricultural Hydraulics Laboratory is active in education and research in the following subjects: 
Irrigation systems automation. 
Agrometeorology 
Micrometeorology and aquatic plant relations 
Contemporary Methods of Calculating the Needs of Crops in Water (Extracorporeal) & comparative assessment of these. 
Methods for measuring soil moisture and determining moisture profiles. 
Cult response to water 
Water quality of irrigation water and methods of determination 
Re-use of treated wastewater in crop irrigation. 
Pollution of surface and groundwater 
Hydrological models. 
Ground Hydraulic 
Simulation of water movement in the unsaturated and saturated zone. 
Geographical Information Systems (GIS) and remote sensing 
Decision Support Systems (DSS) 
Mapping natural resources.